Rinascita della Vigna Borbonica di
San Silvestro nella Reggia di Caserta
From February 2018, Tenuta Fontana received the concession for the restoration, cultivation and management of the ancient Bourbon Vineyard located in the Royal Palace of Caserta. The agreement authorizes the use of the trademark: "Vigna di San Silvestro – Reggia di Caserta".
The purpose of the "Vigna di San Silvestro" project is the oenological enhancement of the production of a traditional variety such as the white and black Pallagrello, obtaining quality grapes suitable for the production of IGT wine.
The Tenuta Fontana company will use the organic cultivation method that represents a system able to safeguard the environment, privileging product quality.
The restoration of the ancient vineyard, located in the Oasis of San Silvestro behind the waterfall of the Park of the Royal Palace of Caserta, starts from the preliminary study of the soils to choose the rootstock best suited to the type of soil and the exhibitions present, continuing with the design and the execution of the works and finally arrive at the agro-environmental biological management of the vineyard.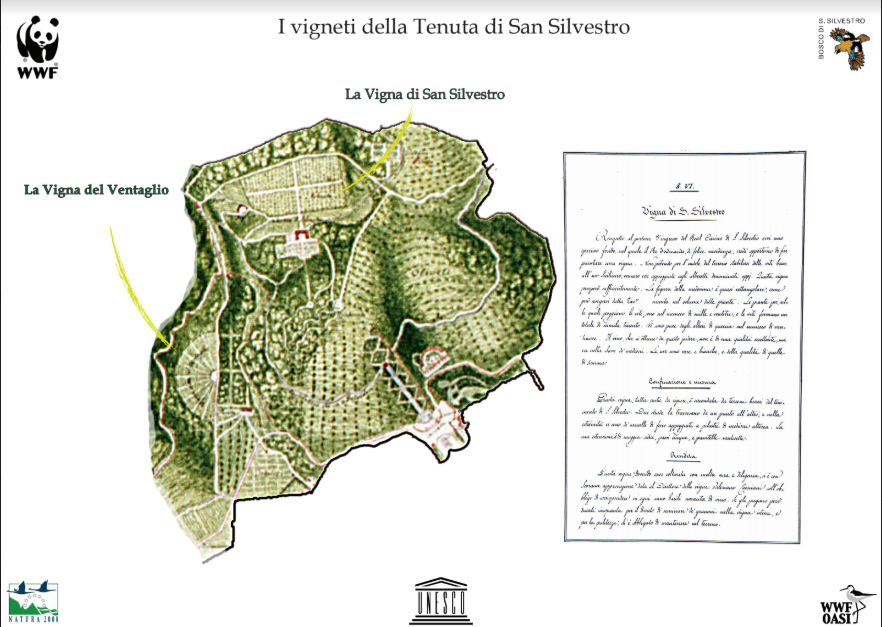 The "Royal Delights"
The importance of the Bourbon dynasty in Caserta is something known to all.
From the Royal Palace of Caserta to the Carolino aqueduct, passing through San Leucio and the redevelopment of the historic center: the marks left by the Bourbons are still visible today.
However, few know that, along the Leucian hills, a wine of absolute prestige was produced in the San Silvestro vineyard.
The immense lands of the Royal Palace of Caserta served not only to impress the many visitors to the Bourbon court, but also for the production of various products.
Flora and fauna once offered a remarkable variety, so much so as to push the king to build a hunting estate. Over the years the structure expanded with a section dedicated to the processing of cheese, honey and, above all, wine. Not very far from that forest, in fact, there was a vineyard of about one hectare, the peculiarity was in its fan-shaped form that allowed the cultivation of various types of vines. With the end of the Kingdom of the Two Sicilies, those Royal Delicacies were abandoned, only to be partially recovered in the 1990s with the San Silvestro WWF Oasis and now thanks to the commitment and passion of Tenuta Fontana, the wine of the Kings will come to life again .